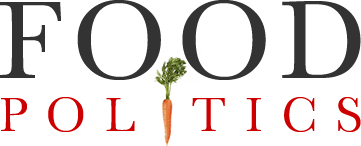 by Marion Nestle
Some thoughts on military might: obesity, candy, and the USDA's arms race
Mission: Readiness versus obesity
As I noted in an earlier post, Mission: Readiness, an organization of former high-ranking military officials concerned about obesity and other health problems in military recruits and personnel, has issued a hard-hitting defense of USDA's school nutrition standards.
But the military loves giving candy to kids
Dr. Karen Sokal-Gutierrez, who is engaged in international programs to reduce sugar-induced tooth decay among children, sends the results of her Google search for "US Military give children candy."
Halloween candy buy back: To prevent tooth decay in US children, this program is having us send our candy to servicemen. Do they eat it themselves, or do they give it to local children where they serve?

A historical perspective on generations of military candy practices

US troops endanger Afghan children by giving them with candy

Images for US soldiers giving children candy
Dr. Sokal-Gutierrez notes that it's not just the military that give children in developing countries candy—it's also tourists and aid workers in developing countries and refugee camps.
She understands why it feels good to do this, but points out that the children might not have toothbrushes or dental treatment.  Candy, she emphasizes, contributes to severe tooth decay, mouth pain, malnutrition, problems in school, etc.
Why is the USDA Buying Submachine Guns?
Another reader, Kris Gilbertson, asks this question based on an article in Modern Farmer.
According to a USDA press rep, the guns are necessary for self-protection.

"OIG [USDA's Office of the Inspector General] Special Agents regularly conduct undercover operations and surveillance. The types of investigations conducted by OIG Special Agents include criminal activities such as fraud in farm programs; significant thefts of Government property or funds; bribery and extortion; smuggling; and assaults and threats of violence against USDA employees engaged in their official duties," wrote a USDA spokesperson.
One can only resort to cliche: food for thought.