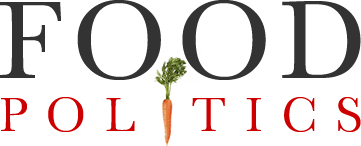 by Marion Nestle
NutraIngredients on Functional Foods
NutraIngredients-USA has a special edition on functional foods, those that have something supposedly healthy—vitamins, probiotics, antioxidants, omega-3s, etc—added above and beyond the nutrients naturally present.
I think functional foods are about marketing, not health, but that's why food companies love them.
From the industry's perspective, "getting nutritional ingredients into foods requires tackling regulatory hurdles, but food offers a mass market that dwarfs anything possible with supplements.
Here are some of NutrIngredients' latest developments:
Collagen peptides: Functional Ingredients for a booming market: Functional ingredients are now more visible to the consumer than ever, with people becoming more aware of the benefits they can offer. Among all these ingredients, collagen peptides are increasingly recognized as a highly effective ingredient solution for manufacturers targeting the skin beauty and healthy aging market segments….

Pill fatigue is driving innovation in space between functional foods and supplements, experts say:  Is pill fatigue just a marketing ploy? No, say many experts in the field.  It's a real phenomenon and it's driving both dosage form innovation and the movement of bioactives into functional foods…

Functional Foods: The end of the processed foods era?  To understand Functional Foods you must see it as a strategy to add value to processed foods, says the president and founder of the HealthyMarketingTeam, Peter Wennstrom, in this guest article…

Phood booed: Why big pharma fails at functional food:  Faced with mounting difficulties in their drug businesses, many pharmaceutical manufacturers are looking at getting into functional foods and beverages, notes food marketing expert, Julian Mellentin in this guest article…

What's driving functional food and beverage growth? Snacking, convenience, and consumer behavior:  With sales of $176.7 billion this year functional foods are a hot growth sector. But which ingredients, sectors and countries are the best bets for product launches?

'The trick is to come up with something that actually works': The elephant in the weight management room:  Two years on from revised European Food Safety Authority (EFSA) guidelines on weight management, the industry is still struggling to produce sufficient evidence to back claims. ..

Lemon myrtle: Aboriginal functional favourite revived by Sydney Games:  An indigenous Australian tree plant, used for tens of thousands of years by Aborigines before being forgotten after the arrival of Europeans Down Under, has the Sydney Olympics to thank for its remarkable comeback as a functional food in teas, chocolate, pasta and more…

Raisio brings cholesterol-lowering Benecol home for €90m>  "J&J should have sold it 10 years ago," is one analyst's appraisal of Finnish agro-food giant Raisio's buy-back of the licensing rights to its cholesterol lowering, plant stanol-based Benecol brand today, referring to US market difficulties for the European sector leader…