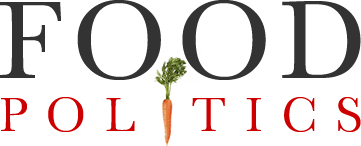 by Marion Nestle
This week's post on industry-sponsored research
As promised, I am posting examples of industry-sponsored research every time I collect five.  These, like the others, produce results favorable to the sponsor's interests.
I am happy to post examples of sponsored studies that do not favor the sponsor's interests, and this first one comes closest.  This Unilever-sponsored study found that consuming the product had no effect on blood flow in people with high blood cholesterol levels, although it did lower their levels of LDL (the "bad" cholesterol).
The effect of a low-fat spread with added plant sterols on vascular function markers: results of the Investigating Vascular Function Effects of Plant Sterols (INVEST) study. By Rouyanne T Ras, Dagmar Fuchs, Wieneke P Koppenol, Ursula Garczarek, Arno Greyling, Christian Keicher, Carole Verhoeven, Hakim Bouzamondo, Frank Wagner, and Elke A Trautwein.  Am J Clin Nutr 2015; 101:733-741 doi:10.3945/ajcn.114.102053.
Conclusion: The intake of a low-fat spread with added PSs [plant sterols] neither improved nor worsened FMD [flow-mediated dilation]or other vascular function markers in hypercholesterolemic men and women. As expected, serum LDL cholesterol decreased, whereas plasma PSs increased after PS intake.
Sponsor: Unilever Research and Development
The next four are more typical:
Dairy proteins, dairy lipids, and postprandial lipemia in persons with abdominal obesity (DairyHealth): a 12-wk, randomized, parallel-controlled, double-blinded, diet intervention study. By Mette Bohl, Ann Bjørnshave, Kia V Rasmussen, Anne Grethe Schioldan, Bashar Amer, Mette K Larsen, Trine K Dalsgaard, Jens J Holst, Annkatrin Herrmann, Sadhbh O'Neill, Lorraine O'Driscoll, Lydia Afman, Erik Jensen, Merete M Christensen, Søren Gregersen, and Kjeld Hermansen.  Am J Clin Nutr 2015; 101:870-878 doi:10.3945/ajcn.114.097923
Conclusion:  We found that a whey protein supplement decreased the postprandial chylomicron response compared with casein in persons with abdominal obesity, thereby indicating a beneficial impact on CVD risk.
Sponsor: Arla Foods Ingredients Group P/S, and the Danish Dairy Research Foundation, among some independent sources.
Policy Statement: Snacks, Sweetened Beverages, Added Sugars, and Schools. Council on School Health, Committee on Nutrition, American Academy of Pediatrics.  Pediatrics Volume 135, number 3, March 2015.
Conclusion: A positive emphasis on nutritional value, variety, appropriate portion, and encouragement for a steady improvement in quality will be a more effective approach for improving nutrition and health than simply advocating for the elimination of added sugars.
Conflicts reported: One of the members of the committee writing this statement is supported by the National Dairy Council and the American Dairy Association.  Another receives support from the Nestle Nutrition Institute.
Maternal long chain polyunsaturated fatty acid [omega-3] supplementation in infancy increases length- and weight-for-age but not BMI to 6 years when controlling for effects of maternal smoking. L.M. Currie, E.A. Tolley, J.M. Thodosoff, E.H. Kerling, D.K. Sullivan, J. Colombo, and S.E. Carlson . Prostaglandins, Leukotrienes and Essential Fatty Acids, 2015.  http://dx.doi.org/10.1016/j. plefa.2015.04.001
Conclusion: Our results… suggest that LCPUFA [omega-3s] could have positive effects on stature without negative effects on weight status; and that LCPUFA could mitigate lower stature and higher BMI associated with maternal smoking, particularly in boys.
Sponsor: Mead Johnson Nutrition, the maker of the LCPUFA omega-3 supplement
Mediterranean Diet and Age-Related Cognitive Decline:  A randomized Clinical Trial. Cinta Valls-Pedret, MSc; Aleix Sala-Vila, DPharm, PhD; Mercè Serra-Mir, RD; et al.  JAMA Intern Med. Published online May 11, 2015. doi:10.1001/jamainternmed.2015.1668.
Conclusion: In an older population, a Mediterranean diet supplemented with olive oil or nuts is associated with improved cognitive function.
Conflicts reported: Dr Salas-Salvado reports receiving research funding and is a nonpaid member of the scientific advisory committee of the International Nut Council. Dr Ros also reports receiving research funding and is a nonpaid member of the scientific advisory committee of the California Walnut Commission.
Let me comment on this last one, which may seem like pushing things, given that the study itself was funded by the agency for biomedical research of the Spanish government.  I would have left it off this list had I not read an article about it in the Wall Street Journal.
The Journal interviewed Dr. Ros, the lead author:
The diminished decline in cognitive function likely stems from the abundance of antioxidants and anti-inflammatory agents found in the supplemental foods…He recommends that, to decrease age-related cognitive delay, people should add 5 tablespoons of olive oil as a well as a handful of nuts a day into their diet.
But the Journal also interviewed a clinical neuropsychologist who was not involved in the study:
The changes observed in cognition were very small and didn't actually show that those diets improved cognition, they just showed less decline. Based on the research…people shouldn't rush out to buy lots of olive oil and nuts.
My point here is that the sole purpose of this study was to prove the health benefits of olive oil and nuts.  Yes, these are healthy foods, but so are many others.  Like virtually all such studies, this one seems designed to produce the desired answer.
On his Weighty Matters blog, Dr. Yoni Freedhoff explains how biases play out in supposedly unbiased research journals, in this case, the British Journal of Sports Medicine.  Dr. Freedhoff talks about the journal's temporary withdrawal of a paper arguing that diet is more important than physical activity in weight loss on the grounds that the authors did not disclose conflicts of interest.  In contrast, an editorial arguing the opposite, by authors who also did not disclose conflicts, went unchallenged and was not withdrawn.
Dr. Freedhoff asks: "Are these sorts of conflicts important to disclose?"
On the basis of today's and many other examples, my answer is an unqualified yes.