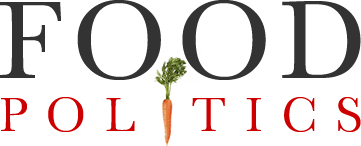 by Marion Nestle
Holiday reading: Savoring Gotham
Andrew F. Smith, ed.  Savoring Gotham: A Food Lover's Companion to New York City.  Oxford University Press, 2015.
Oxford's latest food encyclopedia celebrates the food of New York in 570 entries written by 180 foodies.    Full disclosure: two entries are mine—menu labeling and soda "ban."  And I also turn up as an entry in the biography section (thanks Judith Weinraub).
The entries cover everything that Andy Smith and his team could think of,  in alphabetical order from A&P to Zeppole (following Zagat).  The entries cover specific foods and beverages, of course, but also history, politics, biography, museums, restaurants, retailers, publishing, media, holidays, neighborhoods, organizations, and bars.
As you might expect from anything edited by Andy Smith, the entries are written well and easy to read.  It's lavishly illustrated and fun to browse.  A small sample from the "C's" to illustrate the range: Cosmopolitan, Cotton Club, Cream Cheese, Cries of New York, Cronut, Cuban.
Something for everyone.  And it's in paperback and affordable.