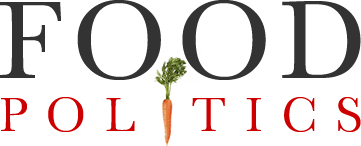 by Marion Nestle
The FDA's unfortunate ruling on GRAS regulations
The FDA has announced its Final Rule on Substances Generally Recognized as Safe (GRAS).
The FDA explains:
Unlike food additives, GRAS substances are not subject to FDA pre-market approval; however, they must meet the same safety standards as approved food additives…The GRAS criteria require that the safe use of ingredients in human and animal food be widely recognized by the appropriate qualified experts.
Uh oh.  "Appropriate qualified experts?"  Like those selected by the companies themselves?  The FDA has failed the public on this one.
FDA missed a major opportunity to clean up the food system… Companies will still be able to introduce novel substances into food in secret, without having to show they are safe.  The agency also failed to fix the rampant conflicts of interest that affect the review process for ingredients. That is unacceptable and deeply disappointing [CU should know.  It filed comments on the FDA's proposed GRAS rules in 2011].
Senator Ed Markey (Dem-MA) says
FDA's Final Rule On Food Safety Process Is A Missed Opportunity…The health and well-being of the American people depend on a meaningful food safety regulatory policy, not a self-graded take home exam that industry doesn't even have to hand in…I plan to explore whether a legislative remedy is needed to ensure the safety of our food supply [Sen. Markey sent FDA a letter in April asking if the agency needs statutory authority to ensure the safety of GRAS substances and encouraging the FDA to issue guidance on how to prevent conflicts of interest for outside experts evaluating GRAS substances.
The backstory
The FDA's final GRAS rule is the result of a settlement agreement following a 2014 lawsuit filed by the Center for Food Safety. The basic issue: GRAS substances are not subject to FDA premarket approvals required for food additives.  Manufacturers are allowed to decide for themselves whether their additives are GRAS without informing the FDA. The new rules confirm this self-managed GRAS notification procedure.
I wrote about this issue in an editorial for JAMA Internal Medicine in 2013 when I commented on a study by Tom Neltner and his colleagues on the blatant conflicts of interest in FDA approval of GRAS substances.
Their study examined conflicts of interest among scientific experts serving on panels deciding whether food additives–substances that preserve, flavor, blend, and thicken food—should be deemed generally recognized as safe (GRAS) and exempt from Food and Drug Administration (FDA) premarket approval requirements.  Their findings are alarming. An astonishing 100 percent of the members of 290 expert panels included in their review worked directly or indirectly for the companies that manufactured the additive in question.  Even more alarming, the experts on these panels form a tight professional cadre.  Although 850 people served on the panels, 10 experts served on 27 panels or more, and one of these ten participated in three-quarters of the panels.
My editorial reviewed the lengthy history of FDA's dithering about the GRAS process.  None of this would matter if all food additives were safe.  But some are not.  I also pointed out:
The problems created by conflicts of interest for the FDA go well beyond those related to food additives and GRAS exemptions.  A recent analysis of requests for waivers by people serving on FDA advisory committees views conflicts of interest as a severe threat to scientific integrity.  As Neltner et al. argue, the lack of independent review in GRAS determinations raises serious questions about the public health implications of unregulated additives in the food supply, particularly the additives that the FDA does not even know about. It also raises questions about conflicts of interest in other regulatory matters.
The FDA's decision is a loss for public health.
It constitutes yet another reason not to eat products with long lists of additive ingredients.
Addition, August 16
The Environmental Working Group also issued a statement.
EWG is disappointed the FDA has decided to once again ignore its legal obligation to ensure the safety of our nation's food supply…The so-called "GRAS loophole" – originally intended to only allow known ingredients proven safe to skip regulatory approval – has swallowed the law, permitting novel chemicals to be added to food without government oversight.