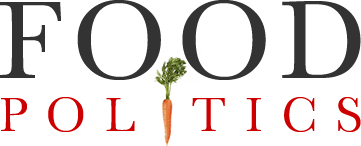 by Marion Nestle
Weekend reading: Food First
Tanya M. Kerssen and Teresa K. Miller.  Food First: Selected Writings from 40 Years of Movement Building.  Food First Books, 2015.
I just got sent my copy of this book, for which I did this blurb:
For 40 years, Food First has been at the forefront of deep thinking about the consequences of agricultural and food consumption practices and injustices, and what needs to be done to achieve food systems that are healthier for people and the planet.  It is an invaluable resource for students, scholars, and advocates.  May it flourish for another 40 years at least!
It's a reader, introduced by Francis Moore Lappé, with dozens of short essays on hunger, food aid, the green revolution, agroecology, peasant food sovereignty, food justice, climate justice, and transformative food movements.
It also has a timeline of the impressive achievements of Food First, starting with Frankie Lappé's inspirational Diet for a Small Planet (I used it as a textbook in the first nutrition class I ever taught) and ending with Eric Holt-Gimenez's anniversary speaking tour.
Happy anniversary First Food, and apologies for the late greetings.