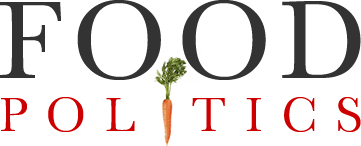 by Marion Nestle
Weekend reading: Food Trucks!
Julian Agyeman, Caitlin Matthews, and Hannah Sobel, eds.  Food Trucks, Cultural Identity, and Social Justice.  MIT Press, 2017.
I love books about single food topics and how wonderful to have one about food trucks, seemingly ubiquitous these days.  But who knew they were a subject for research.
This book covers anything you might want to know about this phenomenon–from local regulations, to how safe they are, to the politics of who owns them, where they are allowed to park, their role in community development, and their adherence to the authenticity of ethnic and immigrant cuisines.
The editors asked the various chapter writers to discuss the motivations behind a particular city's promotion of mobile food vending, and to explain how those motivations relate to broad goals of social justice.
The chapters address these issues from academic perspectives.  The book could have been titled "Food Truck Studies."  From those perspectives, it's a treasure.