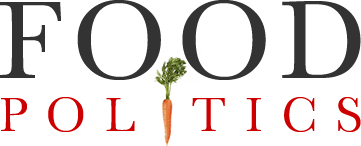 by Marion Nestle
The CDC Nominee's Links to Coca-Cola
Last Sunday's New York Times had a front-page story on Coca-Cola's relationship to the current nominee for director of the CDC.  I'm quoted in it and soon got this request:
Good morning, Marion:

I saw this Times news coverage in which you're quoted.

Given this news about reversing the CDC's position on aligning with the private sector on sugar sweetened beverages, I'm wondering if you'd be game to elaborate on this and provide your perspective on it.
Sure.  Happy to.
The New York Times story on Coca-Cola's connections to Brenda Fitzgerald, President Trump's nominee to head the CDC, goes right into the book I'm writing.  The book is about food, beverage, and supplement industry funding of nutrition research and practice and with luck will be published by Basic Books late in 2018.
Fitzgerald was health commissioner for the state of Georgia and at first glance looks well qualified to head the CDC.  But a health advocacy group, US Right to Know, has had a long-standing interest in Coca-Cola's cozy relationships with CDC—both Coke and CDC are in Atlanta, after all—and at some point obtained emails through FOIA that explain just how cozy.
Here's what especially got my attention in the Times article :
While she was health commissioner, Fitzgerald accepted a million-dollar grant from Coca-Cola for an obesity program focused exclusively on physical activity—for sure, not on the health benefits of drinking less Coke (focusing on physical activity has long been a deliberate strategy of this company).
People associated with the activity program said "Coke had no influence over the program."  Of course that's what they think.  Much research shows that recipients of industry funding do not recognize the influence.  Such influence is unintentional, unconscious, and invariably denied.
When the previous CDC director, Tom Frieden, canceled Coca-Cola's funding of obesity programs (he said it was unjustifiable "to have Coca-Cola run an obesity campaign that had an exclusive focus on physical activity), he asked company officials if they would be willing to fund something in "neutral space" like transportation or water programs.  Not a chance.
Food, beverage, and supplement companies are happy to fund research with a high probability of supporting marketing objectives.   Industry-funded research almost invariably comes out with results favorable to the sponsor's commercial interests.
It's unreasonable to expect otherwise.  Food companies are not public health agencies; they are businesses expected to generate profits and returns to shareholders—that is their #1 priority.
The moral for public health: don't take the money.