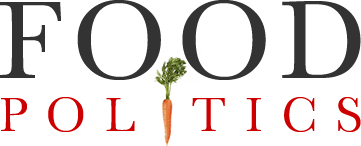 by Marion Nestle
Industry-funded study of the week: coffee protects DNA
I love coffee (preferably not over-roasted) and have long been convinced that it is not a health risk (more on that in the comment below).  But a miracle drug?
As I discuss in Unsavory Truth: How Food Companies Skew the Science of What We Eat, industry-funded research almost invariably produces conclusions that favor the sponsor's marketing interests, as this one does.
Title: Consumption of a dark roast coffee blend reduces DNA damage in humans: results from a 4-week randomised controlled study  Dorothea Schipp, Jana Tulinska, Maria Sustrova, Aurelia Liskova, and 10 others.  European Journal of Nutrition, published online 17 November 2018.
Purpose: "To determine the DNA protective effects of a standard coffee beverage in comparison to water consumption."
Conclusions: "Our results indicate that regular consumption of a dark roast coffee blend has a beneficial protective effect on human DNA integrity in both, men and women."
Funding: "This study has been supported by Tchibo GmbH, Hamburg, Germany" [Tchibo is a German coffee company].
Conflict of interest: "D. Schipp is a self-employed statistician, who has been appointed and financed by Tchibo GmbH for this and other projects."
Comment: this study was designed to demonstrate coffee's protective effects, and did so.  Here's what I wrote about coffee in What to Eat:
There is something abut coffee–perhaps just the caffeine–that makes researchers try hard to find something wrong with it.  My files are full of papers claiming that coffee raises the risk for heart disease, heartburn, cancer, infertility, fetal growth retardation, spontaneous abortion, breast lumps, osteoporosis, ulcers, and any number of other health problems, but the observed effects are so small and so inconsistent that the studies are not very convincing.  Instead, well-designed studies tend to show no harmful effects…Complicating an overall assessment of the health effects of coffee are studies showing the benefits of drinking it…As with so many studies of foods and health, research on coffee and health is hard to do.
Bottom line: If you like drinking coffee, enjoy.
Thanks to Daniel Skavén Ruben for sending this one.