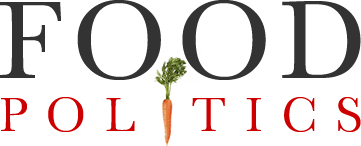 by Marion Nestle
What is a portion size? The British Nutrition Foundation's answer
Lisa Young, author of Finally Full, Finally Slim, has long argued that portion control is the key to maintaining healthy weight.
Now, the industry-funded (see list here) British Nutrition Foundation has issued a "handy" guide to appropriate portion sizes.
I put "handy" in quotes because the system is based on hand measurements.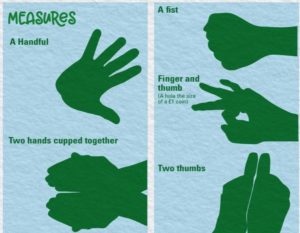 The guide tells you how many servings you are supposed to have each day from each of the major food groups, and how to tell the serving size for a very long list of foods.
I find all of this hugely complicated, and don't think you should need to learn what looks like a guide to sign language to know how to eat.
I'm especially suspicious because the Nutrition Foundation is an industry-sponsored group and it is very much in the interest of the food industry to have you take full responsibility for controlling your own food intake.  If you eat too much, it's your fault for not learning this system.
How about food companies making and serving smaller portions?  Nope.  It's up to you to take greater personal responsibility for what you eat.
Try this for yourself and see what I mean.