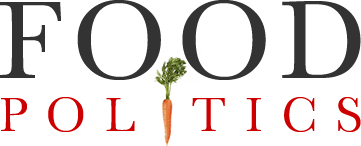 by Marion Nestle
Annals of Marketing: A Sugary Cereal for Toddlers
Coming soon to a supermarket near you: Baby Shark cereal.
I am so out of it.  I never heard of the song, Baby Shark, before seeing this story about Kellogg's new cereal—aimed at toddlers.
The song, I gather, is adored by babies, less so by their parents, but never mind: it is expected to sell lots of cereal.
I searched for a Nutrition Facts label online, but could not find one (the cereal won't be available until mid-September, apparently.
I did see this at the bottom corner of the box:
One and one-third cup of this stuff provides 150 calories, 190 mg of sodium, and 15 grams of sugars.  Oh great, 40% of calories from sugars.
Another sugary cereal for kids, this one for little kids!
Do food companies market directly to children?  Yes, they do.