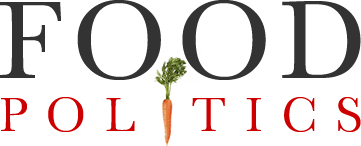 by Marion Nestle
Corporate capture in action: e-mails illustrate the meat industry's role in keeping plants open despite Covid-19
I've written previously (see this one, for example) about the meat industry's role in keeping plants open despite worker illnesses, but much about the industry's pressures on government has been based on conjecture.  No more.
In another example of the value of the Freedom of Information Act (FOIA), two groups have obtained e-mails documenting these pressures.
FROM PRO PUBLICA, September 14, 2020: "Emails Show the Meatpacking Industry Drafted an Executive Order to Keep Plants Open: Hundreds of emails offer a rare look at the meat industry's influence and access to the highest levels of government. The draft was submitted a week before Trump's executive order, which bore striking similarities."
The e-mails indicate that the North American Meat Institute (NAMI), the trade association for the meat industry, essentially wrote President Trump's executive order invoking the Defense Production Act, which forced plants to stay open and workers to continue working under unsafe and highly virus-transmissable conditions.
For example (and look on the site for #6, which does a longer and even more compelling comparison):
FROM PUBLIC CITIZEN, September 15, 2020: "The U.S. Department of Agriculture (USDA) and the meatpacking industry worked together to downplay and disregard risks to worker health during the pandemic, as shown in documents uncovered by Public Citizen and American Oversight through Freedom of Information Act (FOIA) requests."
The documents show that:

The executive order signed by President Donald Trump regarding meatpacking plants, ostensibly invoking the Defense Production Act, was the result of lobbying by the North American Meat Institute, a meat-packing trade association, which prepared what appears to be the first draft of what would become the executive order;
The North American Meat Institute repeatedly requested that USDA Secretary Sonny Perdue discourage workers who were afraid to return to work from staying home;
Meatpacking plants asked the USDA to intervene on multiple occasions when state and local governments either shut them down over health and safety concerns or sought to impose worker health and safety standards; and
Smithfield Foods repeatedly requested that the USDA "order" it to reopen its meat processing plant in Sioux Falls, S.D. – despite no legal basis for such an order.
WHAT'S AT STAKE HERE?
Check out Leah Douglas's ongoing count of Covid-19 cases among meatpacking workers.  Her figures as of September 18, include at least:
804 meatpacking and food processing plants (496 meatpacking and 308 food processing) and 106 farms and production facilities have had confirmed cases of Covid-19.
59,430 workers (42,606 meatpacking workers, 9,571 food processing workers, and 7,253 farmworkers) have tested positive for Covid-19.
254 workers (203 meatpacking workers, 35 food processing workers, and 16 farmworkers) have died.
To state the obvious: corporate capture of government agencies and the presidency is not good for public health or American democracy.