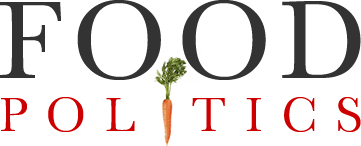 by Marion Nestle
Industry-funded studies of the week: blueberries—again!
Thanks to Lisa Young for sending this announcement: New Research Examines Blueberries' Positive Impact in Men with Type 2 Diabetes. 
I am already on record as saying that I love blueberries, but I wish they weren't marketed as superfoods.  All fruits, vegetables, nuts, and grains provide nutrients and fiber.  That makes all of them worth eating for their nutrition-and-health value as well as their taste.  Singling out one or another makes no sense to me, but I'm not in the business of selling one rather than another.  Because similar results would be expected from studies of many other fruits, I put this one in the category of marketing research.
Effect of Blueberry Consumption on Cardiometabolic Health Parameters in Men with Type 2 Diabetes: An 8-Week, Double-Blind, Randomized, Placebo-Controlled Trial.  Kim S Stote, Margaret M Wilson, Deborah Hallenbeck, Krista Thomas, Joanne M Rourke, Marva I Sweeney, Katherine T Gottschall-Pass, Aidar R Gosmanov.  Current Developments in Nutrition, Volume 4, Issue 4, April 2020, nzaa030. 
Conclusion: "Consumption of 22 g freeze-dried blueberries for 8 wk may beneficially affect cardiometabolic health parameters in men with type 2 diabetes."
Funding:  "Supported by the US Highbush Blueberry Council (to KSS, MMW, and ARG) and by resources and the use of facilities at the Stratton VA Medical Center, Albany, NY, USA.  Author disclosures: KSS, MMW, and ARG received intervention products from the US Highbush Blueberry Council. All other authors report no conflicts of interest.  The US Highbush Blueberry Council supplied the funds to conduct the study but was not involved in the design, implementation, analysis, or interpretation of data.
Comment:  The funder does not have to be involved.  Everyone knows funders are not interested in funding research that might produce results unfavorable to their product.  Freeze-dried blueberries sound like medicine.  I'd rather eat the real things.