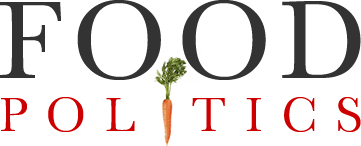 by Marion Nestle
Weekend reading: The Monsanto Papers
Carey Gillam.  The Monsanto Papers: Deadly Secrets, Corporate Corruption, and One Man's Search for Justice.  Island Press, 2021.
Gillam, the author of Whitewash, a book for which I did a blurb (and who works for U.S. Right to Know) has surpassed herself and written what I can only descxribe as a blockbuster, right up there with page-turning thrillers by John Grisham.
I could not put this book down, and cannot recommend it highly enough.
It is the story of a school groundskeeper, Lee Johnson, who one working day set out to spray Roundup to kill weeds, but had an accident and got soaked with it.  He later developed a form of Non-Hodgkin Lymphoma  (NHL) that has been associated with exposure to this weed killer.
Once Roundup's main ingredient, glyphosate, was judged "probably carcinogenic" by the International Agency for Cancer Research, lawyers got involved and Johnson was chosen for the first case to try.
Gillam documents what the maker of Roundup, Monsanto, did to hide evidence of this chemical's carcinogenicity, how it funded its own studies, ghost-wrote others, and established cozy relationships with EPA officials (hence "corporate corruption").
She also tells the legal story.  Even though I knew the outcome before I picked up the book—I track such things—I found the details about the preparation of the case and actual trial riveting.
This is because this book is fabulously written—as I said, I couldn't stop reading it—but also because she makes the characters in this drama come alive.  It reads like a novel.
It's also an important book.  Monsanto is infamous for bad corporate behavior ("Monsatan") but what's documented here is truly shocking.  I shouldn't have been shocked because I had written about Monsanto in my 2003 book about food biotechnology, Safe Food: The Politics of Food Safety.  I had written my own account of its bad behavior.
Gillam brings the story up to the point where the German pharmaceutical firm, Bayer, bought Monsanto for $63 billion, something I hope this company has regretted ever since.
Spoiler alert: The most recent development in this case happened just last week.