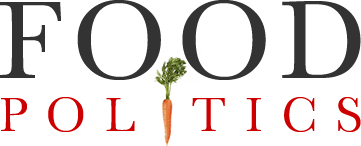 by Marion Nestle
Some good news (for a change)
Just in time for the Thanksgiving holiday, government agencies are, at long last, taking action on food issues.
Two examples:
I.  The Federal Trade Commission has issued warning letters to trade associations and dietitian-influencers they paid to promote sugar and aspartame on social media.
The letter to AmeriBev detail concerns about posts on Instagram and TikTok by Valerie Agyeman, Nichole Andrews, Leslie Bonci, Keri Gans, Stephanie Grasso, Cara Harbstreet, Andrea Miller, Idrees Mughal, Adam Pecoraro, and Mary Ellen Phipps, each of whom also received an individual warning letter.

The letter to The Canadian Sugar Institute expresses concerns about Instagram posts by Jenn Messina and Lindsay Pleskot, each of whom also received an individual warning letter.
The letter to American Beverage (formerly the American Beverage Association) gives the "or else."
We strongly urge you to review your social media policy. You should also review the Instagram, TikTok, and other social media posts made by your endorsers as to whether they contain sufficiently clear and conspicuous disclosures of any material connections to the American Beverage Association. To help guide your review, please see the Endorsement Guides3 and the staff publication FTC's Endorsement Guides: What People Are Asking. Violations of the FTC Act may result in legal action seeking a federal district court injunction or an administrative cease and desist order
This action comes as a result of the investigative report in the Washington Post (it is cited in the letter).  I wrote about the Post article here and also posted the the response from the Academy of Nutrition and Dietetics.
The Post investigative team had this to say about the FTC's warning letters.
Federal regulators announced warnings against two major food and beverage industry groups and a dozen nutrition influencers Wednesday, as part of a broad action to enforce stricter standards for how companies and social media creators disclose paid advertising.
Comment: Let's hear it for the power of the press!
II.  New York State Attorney General sues PepsiCo for plastic pollution
New York Attorney General Letitia James today filed a historic and groundbreaking lawsuit against PepsiCo Inc. (PepsiCo) for harming the public and the environment with its single-use plastic packaging. The Office of the Attorney General (OAG) found that single-use plastic produced by PepsiCo contributes significantly to high levels of plastic pollution along the Buffalo River, pollution that is contaminating drinking water and harming wildlife.

…PepsiCo, which is headquartered in New York state, manufactures, produces, and packages at least 85 different beverage brands and 25 snack food brands that predominantly come in single-use plastic containers. Plastic packaging has become a persistent and dangerous form of pollution along the shores of the Buffalo River and in its watershed. In 2022, OAG conducted a survey of all types of waste collected at 13 sites along the Buffalo River and its tributaries and found that PepsiCo's single-use plastic packaging was the most significant. Of the 1,916 pieces of plastic trash collected with an identifiable brand, over 17 percent were produced by PepsiCo. PepsiCo's plastic packaging far exceeded any other source of this identifiable plastic waste along the river, and it was three times more abundant than the next highest contributor.
According to the New York Times, PepsiCo:
has said it aims to make all of its packaging "recyclable, compostable, biodegradable or reusable" by 2025. The company also says it wants to cut virgin plastic by 50 percent by 2030, compared with 2020.
The company is now being held accountable for that promise.  What a concept!
Comment: While soda-and-bottled-water companies profess commitments to reducing plastic waste, they fight recycling laws (those that require bottle deposits returnable when the bottle is returned) in every way possible.  Attorney General James is doing something quite remarkable; she is holding PepsiCo accountable for some of the externalized costs of producing sodas, bottled water, and snacks.  I hope this sets a strong precedent.  Kudos!