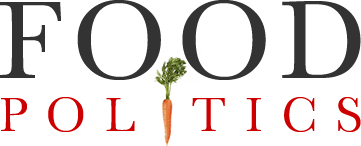 by Marion Nestle
Weekend reading: Raise: What 4-H Teaches 7 Million Kids
Kiera Butler.  Raise: What 4-H Teaches 7 Million Kids & How its Lessons Could Change Food & Farming Forever.  University of California Press, 2014.
Kiera Butler usually writes for Mother Jones (her latest is about how McDonald's markets to kids) but this time took on an investigative reporter's immersion into the world of 4-H, the venerable youth-mentoring program aimed at "growing confident kids."
Although the program's website says "4-H is the youth development program of our nation's Cooperative Extension System & USDA," you have to look hard to see how it relates to its farming origins.
Butler follows several individual 4-H members, young teenagers, who are deeply engaged in raising and showing animals at county fairs.  She follows their experiences for a year and observes their demonstrable growth in skills, confidence, and the handling of disappointment.  These are the impressive accomplishments of this program.
But she is also well aware of the many contradictions of 4-H: the high cost of participation, its lack of racial and ethnic diversity, its promotion of the values of industrial agriculture, the divide between urban and rural members, and the surprising lack of attention to what agriculture is about and its importance to the economy and society.
Her conclusion: 4-H needs to be challenged to promote critical thinking about agriculture.
Raise is a good read and is thoroughly convincing about the need for such thinking.