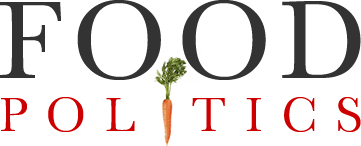 by Marion Nestle
Never a dull moment: snortable chocolate?
I know that everyone loves chocolate, but to snort???
The FDA, ever on the job, has issued a warning letter to Arco Globus Trading that its snortable Coco Loko product–cocoa powder infused with caffeine, gingko, taurine, and guarana–is being marketed illegally as an unapproved street drug.
the claims made in your promotional materials for Legal Lean Syrup and Coco Loko demonstrate that these products are intended to be used as alternatives to illicit street drugs…With respect to Coco Loko, a powder substance, you describe it in your labeling as a "snuff" and you promote it to be "snorted" (inhaled intranasally).  Intranasal administration of a powder substance can trigger laryngospasm or bronchospasm and induce or exacerbate an episode of asthma.  Furthermore, the ingredients listed on the product label for Coco Loko include taurine and guarana.  The safety of these ingredients for intranasal administration has not been evaluated.
I can't find an official website for the product (it seems to have disappeared) but the FDA says that Coco Loko does not qualify as a supplement (it is snorted, not eaten, and it actually intended for use as a street drug:
"Endorphin rush . . . it triggers a positive feeling of well being in your body similar to morphine."
"Serotonin rush . . . will produce an elevated mood and a state of euphoria similar to the feeling of ecstasy."
"Euphoric energy . . . Raw cacao will give you a steady rush of euphoric energy . . .."
"Raw cacao . . . is also known to help with anxiety and to reduce stress."
Coco Loko Review by I Suck At Talking (Youtube video on your website): "Raw cacao is linked to numerous health benefits . . . lower blood pressure and improved blood circulation . . .." (1:04 – 1:13)
Snorting cocoa powder?  Really?  Not a good idea (even though no calories that way).
You can't make this stuff up either.