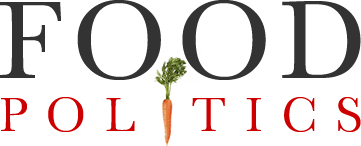 by Marion Nestle
The salt debates continue: American Journal of Hypertension
The American Journal of Hypertension has published a series of point-counterpoint articles on the salt debate: are public health campaigns to reduce sodium intake warranted by the data?  Public health agencies argue yes.Others argue to the contrary.
This debate is not easily resolved, mainly because everyone eats a high-salt diet; most salt is already in processed and restaurant foods and eaters have no choice.
So the issue really becomes one of whether it makes any difference to high blood pressure to reduce high salt intakes and, if so, to what level—questions difficult to answer with current methods.
Introduction
The Salt Discourse in 2013
Theodore A. Kotchen
CDC Response
Sodium Reduction Is a Public Health Priority: Reflections on the Institute of Medicine's Report,Sodium Intake in Populations: Assessment of Evidence
Janelle P. Gunn, Jessica L. Barron, Barbara A. Bowman, Robert K. Merritt, Mary E. Cogswell, Sonia Y. Angell, Ursula E. Bauer, and Thomas R. Frieden
NYC DOHMH Response
Getting the Message Right: Reducing Sodium Intake Saves Lives
Jenifer E. Clapp, Christine J. Curtis, Susan M. Kansagra, and Thomas A. Farley
Editorial
The IOM Report Fails To Detect Evidence to Support Dietary Sodium Guidelines
Michael H. Alderman and Hillel W. Cohen
Researcher Responses
Physiology, Not Policy, Drives Sodium Intake 
David A. McCarron
Extreme Sodium Reductions for the Entire Population: Zealotry or Evidence Based?
Andrew Mente, Martin J. O'Donnell, and Salim Yusuf
Flawed Evidence Should Not Derail Sound Policy: The Case Remains Strong for Population-Wide Sodium Reduction
Lawrence J. Appel and Paul K. Whelton
Sodium: How and How Not to Set a Nutrient Intake Recommendation
Robert P. Heaney