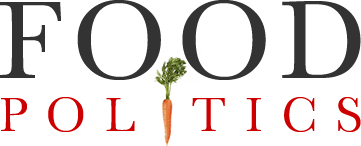 by Marion Nestle
Currently browsing posts about: farmers markets
I'm in Israel this week at a meeting on Sustainable Food Systems* along with some basic food tourism.
The trip started with a visit to the small-but-impressive farmers' market at the Port of Tel Aviv.
The market is under umbrellas to protect people, sprouts, and other vegetables from the intense Mediterranean sun (it's hot here).  
The market is in two sections, separated by an indoor section with stalls for an amazing array of (mostly) locally produced artisanal food products.
And here's Shir Halpern who developed this market, runs others, and is doing everything possible to encourage young farmers.
This is a great way to start any visit to a new country.
*Just for fun, here's my interview in today's Haaretz—-in Hebrew.   And here's an English translation (thanks to Hemi Weingarten of Fooducate)
Thanks to Mark Douglas of Culinate.com for sending me his site's new interactive map of farmers' markets in the United States.  I have no idea how his group acquired this information but you can type in your community and up pops a list of local markets with maps to find them.  I tried Ithaca, New York, and up popped the terrific local institution right there on the Cayuga inlet.