McDonald's sent out a press release yesterday to announce "healthier" changes to its Happy Meals.
Healthier?  Not quite.  The company is announcing a "Commitment to Offer Improved Nutrition Choices" [my emphasis].
The comprehensive plan aims to help customers — especially families and children — make nutrition-minded choices whether visiting McDonald's or eating elsewhere.

Menu changes underway include the addition of more nutritionally-balanced choices that meet McDonald's reputation for great taste and affordability, along with an increased focus on providing nutrition information that enable customers and employees to make simple, informed menu decisions.
McDonald's says that by the end of this year it will automatically include produce or a low-fat dairy option in every Happy Meal.  It will:
Automatically include both produce (apple slices, a quarter cup or half serving)
Automatically include a new smaller size French fries (1.1 ounces)
Automatically reduce the sodium by 15% or more
I emphasize "automatically" because it means the default. If you order a Happy Meal, that's what you get.   Research shows that most people stick with the default. If the default is a healthy meal, kids have a better chance of getting one.
Everything else is your choice:
Hamburger, Cheeseburger or Chicken McNuggets.
"Beverage, including new fat-free chocolate milk and 1% low fat white milk"
The press release says: "McDonald's will automatically include produce or a low-fat dairy option in every Happy Meal."
Doesn't that sound like the Happy Meal will come with low-fat milk?
Wrong.
The meal comes with a choice of a soda or low-fat chocolate or white milk.  Soda remains an option.  And the meal still comes with a toy.
So all the fuss—and McDonald's has gotten huge press over this—is about 3 or 4 small slices of apples, one ounce less of French fries, and less sodium.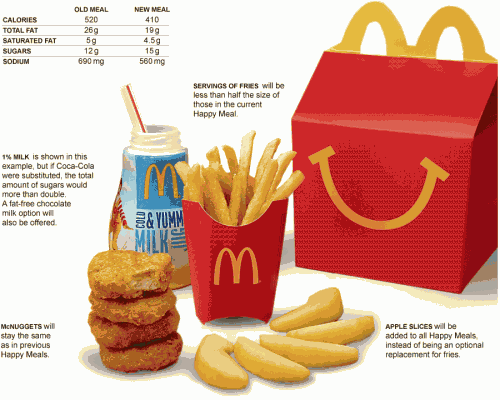 These may be steps in the right direction, but I'd call them tiny baby steps.
So what's going on here? Much of this is about responding to Michelle Obama's call for action on childhood obesity.
But according to the Wall Street Journal, business matters may also be at stake. Happy Meals account for less than 10% of McDonald's U.S. sales, but sales have been declining since 2003 for a funny reason: "gadgets for children have become more sophisticated and the toys less desirable."  Of course the only reason kids want Happy Meals is for the toys.
But kids have to eat.  Instead of Happy Meals, parents have been
ordering adult-size items off the 'dollar menu' and splitting them between two children rather than buying two kids' meals.

Kids' meal orders at fast-food restaurants have declined 15% since 2006 to just under a billion, while dollar-menu items ordered by or for kids have increased 29% in the last five years.
The Wall Street Journal quotes a restaurant consultant who comments that
Making [apples] a forced decision is a pretty unusual thing for a restaurant to do…If they can get to a place where parents associate them with healthy offerings in a world of increasing fast casual options that are perceived as healthier, that will be good for them.
But will it? McDonald's tested healthier meals with disappointing results.  So this has to be about McDonald's trying to appear to do something to promote kids' health. In reality, it can't. McDonald's is a business and its business interests come first.
If McDonald's were serious, it could offer a truly healthier Happy Meal as the default and back it up with marketing dollars.  When the company does that, I'll cheer.  Until then, as I told the Times, "I'm not impressed."