This ad appeared in yesterday's New York Times.
The ad is signed jointly by JBS and Pilgrim's, but JBS owns nearly 80% of Pilgrim's, so this is JBS's ad.
At the bottom of this ad, you can read about the company in very small print:
JBS is the second-largest food company in the world, producing high-quality beef, chicken and pork products, alokng with innovative prepared foods and plant-based alternatives that reimagine the future of protein….
The company is based in Brazil, where burning of the rainforest to grow soybeans—to feed cattle–produces massive amounts of greenhouse gases.
In this ad, JBS promises to achieve "net-zero emissions" by 2040.
How?  It's a bit vague on details.
We're setting time-bound, science-based targets and backing them up with $1 billion in capital over the next decade.  We're supporting producers by investing $100 million by 2030 in on-farm research.

We will cut our own emissions by 30% by 2030 and eliminate Amazon deforestation from our supply chain within five years.
For the record, JBS' annual revenues are nearly 40 times higher than what it plans to spend on this over the next 10 years.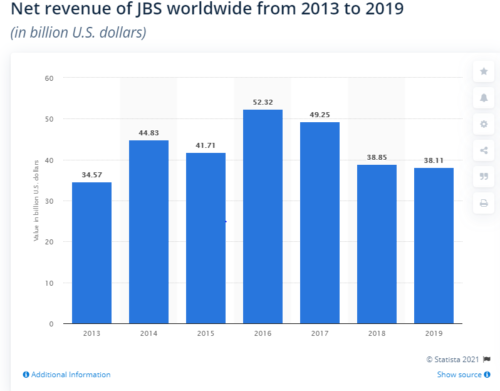 The company's revenues have been declining.  Does that explain its sudden interest in preventing climate change?
This looks like classic greenwashing to me.
Before believing that this is not greenwashing, I'd like to see those "time-bound, science-based targets" and to know who is holding JBS accountable for meeting them.